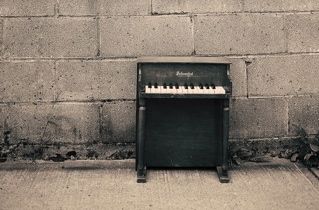 The UnCaged Toy Piano was originally founded in 2007 by Phyllis Chen as a composition competition to expand the music for toy piano. The instrument has gained interest by performers, composers and artists from a large variety of artistic backgrounds. Given the large number of submissions received through the years, UnCaged Toy Piano became a bienniel festival that hosts three different events in New York City in December.  The festival premieres many of these new works and curates a three-day event, showcasing other artists, performers and makers who are using toys and toy pianos to make exciting new music. The festival is greeted with great enthusiasm each time, inspiring concertgoers and performers to cross state borders and oceans to attend. The toy piano movement has surely begun!
Since 1872…
Invented in 1872, the toy piano was mostly considered an educational toy for children. It was not until John Cage's seminal work, "Suite For Toy Piano" in 1947 that single-handedly turned the toy piano into a concert instrument. In recent decades, a growing number of musicians and audience members have embraced this instrument for its freshness, un-assuming yet quirky quality.
UnCaged Toy Piano creates opportunities for musicians, artists and composers to discover and develop its inherent language while promoting it in concerts, recordings, and festivals.   By holding a competition annually, the UnCaged Toy Piano encourages composers and artists of any age, gender, ethnicity, and background to create works for this instrument.
UnCaging the Toy Piano
The toy piano quickly became an instrument that saddled between many other instruments familiar to us—it looks like a miniature full-sized "string" piano, and has the range of many new electronic midi keyboards. As an acoustic instrument, it is made of metal rods and reminds people of a glockenspiel, xylophone, gamelan, music box, a poor man's celesta,harp, mbira, guitar, bells, and many others. Through time, the UnCaged Toy Piano hopes to develop idiomatic repertoire for the instrument so that it becomes its own artistic entity, giving attention to a relatively unknown instrument with a unique sound and voice.
The competition has received over 200 submissions from composers across the globe to date. The works that are not chosen to be part of the festival are sent to the Giesel King toy piano library collection at the University of California, San Diego.