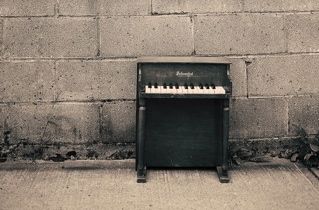 The UnCaged Toy Piano Composition Competition was founded in 2007 by Phyllis Chen as a call-for-scores to expand the music for toy piano. This competition was formed to encourage composers to write for this unusual instrument that has rapidly gained attention and interest from many pianists, composers and artists in the last decade.  As an instrument with no set boundaries or pre-conceived ideas on how it should be played, the toy piano is an untapped musical medium for artists to explore new compositions and multi-media works without being tied to any set genre or tradition.
129 Years of Toy Piano
Invented in 1872, the toy piano was mostly considered an educational toy for children. It was not until John Cage's seminal work, "Suite For Toy Piano" in 1947 that single-handedly turned the toy piano into a concert instrument. In recent decades, a growing number of musicians and audience members have embraced this instrument for its freshness, un-assuming yet quirky quality.
Through history, instruments have changed depending on the imagination of composers and the potential they found in them.  UnCaged Toy Piano hopes to create an opportunity for musicians, artists and composers to discover and develop its inherent language while promoting it in concerts, recordings, and festivals.   By holding a call-for-scores annually, the UnCaged Toy Piano encourages composers and artists of any age, gender, ethnicity, and background to create works for this instrument.
UnCaging the Toy Piano
The toy piano quickly became an instrument that saddled between many other instruments familiar to us—it looks like a miniature full-sized "string" piano, and has the range of many new electronic midi keyboards. As an acoustic instrument, it is made of metal rods and reminds people of a glockenspiel, xylophone, gamelan, music box, a poor man's celesta,harp, mbira, guitar, bells, and many others. Through time, the UnCaged Toy Piano hopes to develop idiomatic repertoire for the instrument so that it becomes its own artistic entity, giving attention to a relatively unknown instrument with a unique sound and voice.
The UnCaged Toy Piano changes themes each year for our call-for-scores. We believe that the toy piano has the potential to be performed in many different environments and contexts. Currently in its fourth year, the competition has received over 150 submissions altogether from composers across the globe from the US, Canada, Argentina, Russia, Sweden, Finland,France, Germany, Italy, Israel, Taiwan, Bulgaria, Australia, Japan, Korea, Malaysia, Netherlands, Portugal and Brazil. The toy piano movement has begun!