Based on Assisi, Italy, Stefano Alessandretti  is a multimedia composer and sound artist.   He studied composition with Corrado Pasquotti, live electronics with Alvise Vidolin and Paolo Zavagna (Conservatorio B. Marcello, Venezia) and electronic music with Marco Ligabue (Conservatorio L. Cherubini, Firenze). He was an active composer at 'De Musica' workshop of composition with Salvatore Sciarrino (Rome Conservatory of Music, 2009); 'IRCAM' workshop of composition and live electronics (Biennale Musica di Venezia, 2011); 'IanniX' workshop of composition and electronics (Biennale Musica di Venezia, 2012). His music have been performed, among others, by Plurimo Ensemble, Ex Novo Ensemble, PRIME Recorder Ensemble, Interensemble, New Made Ensemble, SON Ensemble, Arazzi Laptop Ensemble, Orchestra Filarmonica della Fenice, in festivals such as Stagione Sinfonica del Teatro La Fenice di Venezia, World Venice Forum, Biennale Musica di Venezia, EMU Fest, La terra fertile, Laptop Meets Musicians Festival, Unerhörte Musik, Sound & Music Computing, Mostra di Architettura della Biennale di Venezia. He was formally a professor of Music Technologies (Conservatorio L. Marenzio, Brescia – Conservatorio O. Respighi, Latina) and currently full professor of Musical Informatics at Conservatorio N. Piccinni, Bari.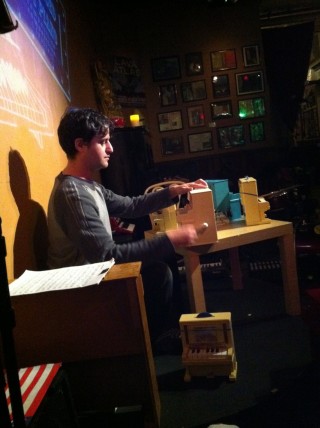 Ranjit Bhatnagar is a sound artist who works with technology, language, and found materials to create interactive installations and musical instruments.  His works have been exhibited across the United States and in Europe and appeared in performances as far away as Shanghai.  In an annual project, he creates a new homemade musical instrument each day of the month of February — the Instrument-a-day project is now in its sixth year.
This summer, Ranjit worked with the art collectives Flux Factory and Rabid Hands to build a large-scale musical installation at the Palais de Tokyo Museum in Paris this summer.  His interactive sound work Singing Room for a Shy Person, commissioned by Amsterdam's Métamatic Research Initiative, premiered at NYC's Clocktower Gallery this Spring, and moved to the Jean Tinguely Museum in Basel, Switzerland in October 2013 for the exhibition Métamatic Reloaded. He'll be performing in the Uncaged Toy Piano Festival and in Qubit's Machine Music Festival this winter, and building an outdoor sound sculpture for the Caramoor Center's sound art festival in the spring.
Described as "a dazzling performer who wrings novel sounds from the humble toy piano,"(NY Times) and "a bold pianist with an excellent sense of color" (LA Times), Phyllis Chen is the founder of the UnCaged Toy Piano and has performed in a large variety of contexts in the US and abroad . She is also one of the founding members of the International Contemporary Ensemble.  As a composer she has received commissions and grants from the Singapore International Festival of the Arts, Fromm Foundation, LA County Museum, NYSCA, New Music USA, Baryshnikov Arts Center, A Far Cry, Opera Cabal Opera Shop, ICElab and others.  She is also one of the co-composers for The Other Mozart, a one-woman play by Sylvia Milo about Nannerl Mozart. She and co-composer Nathan Davis earned a 2015 NY IT Award for Best Original Music for a play.  Her unusual musical interests gained attention when she won the 2007 Concert Artists Guild Competition and awarded the New Music/New Places Fellow.  Phyllis has released five albums, three solo albums  on such labels as  Concert Artists Guild, cerumenspoon, New Focus Recordings and a fourth collaborative album with Cuddle Magic on fyo records.  Her fifth album, "Nature of Thingness" (Starkland), featuring chamber works by Phyllis and Nathan Davis,  won the 2016 Independent Music Award for Best Classical album.
Alexa Dexa is a composer, electronic sound designer, and performer noted as "an example of pure charm and whimsy" by The New York Times and "unarguably personifying DIY for the millennium" by Creative Loafing Atlanta. Her toychestral electronic pop solo project parades her soulful vocals, computer-based sequences, and enough instruments made with children in mind to rival a playpen. Among her growing collection are her beloved toy piano, pitched desk bells, and typatune.
A graduate of Berklee College of Music and member of the Schoenhut Artist Roster, Alexa's self-released discography includes 3 full-length albums, 2 conceptual micro-albums, and 2 soundtracks for site-specific performance and theater. She was awarded the 2015 Creative Individuals Grant from the New York State Council on the Arts and a 2014 Puffin Foundation grant for her most recent conceptual albums.
An adventurer at heart, Alexa spends 4-6 months out of the year touring the world with a strong do-it-yourself ethos. Her 12 previous self-booked tour itineraries over the past 5 years have taken her throughout North America, Europe, Oceania, and Asia. Her festival appearances include BFF Femme Fest (NE), Future City Festival (NZ), Fairy Tale Festival (HR), the Florida International Toy Piano Festival (FL), Burning Man (NV), Fusion Festival (DE), UnCaged Toy Piano Festival (NY), Sidewalk Festival of Performing Arts (MI), and Make Music New York (NY).
Dexa is 
Alexa
's middle name, after her paternal granny. Always a playful girl enchanted with miniatures and sonically drawn to resonant bell tones, it is not much of a surprise that upon first discovering the realm of toy instruments, 
Alexa
 fell head over heels instantly and immediately began to seek out the toys she now uses to self-accompany and that continue to shape the contours of her compositions and musical sensibilities.
Rieteke Hölscher (1969) is a Dutch composer and pianist. She studied piano with Frans van Dalen, and Rian the Waal. After her graduation (1992) at the Hilversum Conservatory she developed herself as an all-round musician – performer, teacher, conductor and church musician. It was in 2011 that she decided to give in to her long-cherished desire by taking composition lessons with Jeroen D'hoe. This resulted in a study composition at the Utrecht Conservatory with Caroline Ansink and Jeroen D´hoe in 2013 where she received her master's degree in 2016. Hölscher was nominated in 2012 for the Composition Prize of 'Muziek Centrum Nederland' and was in 2015 also a laureate of 'Save the Bassoon' (a contest in cooperation with Bram van Sambeek, Gaudeamus and Grachtenfestival Amsterdam). Her compositions were performed by established musicians like Marcel Worms, Utrechtse Studenten Cantorij, and students of bassoonist Bram van Sambeek. In her compositions Hölscher aims to achieve an unique sound with great accessibility, with the ideal to bridge the gap between music history, contemporary music and the audience. Her colorful music is best described as straight and emotional with lyrical melodic lines, attention for timbre and an original use of extended techniques. Hölscher has also a strong commitment to both audience and performers without making creative concessions. Her oeuvre includes solo repertoire and chamber music as well as a pianoconcerto for youth orchestra, and is published by Donemus – a renowned publishing house of contemporary classical music. Rieteke's sketch for Robot Toy Piano was performed during the Gaudeamus Muziekweek in Utrecht in September 2017.
Born in Belgium, Daniel Jodocy moved to New York City in 1997 where he has performed and recorded with musicians and bands including Jonas Mekas, Bill Frisell, Joey Baron, Robin Schulkowsky, Art Baron, Billy Martin, Jeff Ballard, John Spencer (Blues Explosion), Nublu Orchestra Conducted by Butch Morris, Kenny Wollesen (Himalayas and Wollesonic), Cyro Baptista, Big Lazy, Q Tip, and John Zorn. He also contributed to the Grammy-Nominated Brazilian Girls 2008 album New York City. Daniel is also known for his skills as an instrument builder and drum machine whiz. He has built instruments for Aaron Posner-Teller's critically acclaimed shows Macbeth and The Tempest for John Zorn's Pocket Concerto Project at the Miller Theater. The experience creatively influenced and defined Daniel's interest in alternative mediums of instruments, leading to his well-received musical suitcase project.
Daniel is currently active with his project Dizzy Ventilators, touring extensively in Japan and Europe. He also collaborates with several groups including Wollesonic by Kenny Wollesen, FilmSpeak with Todd Clouser (based in Mexico City and using films by Jonas Mekas, Armando Croda, Raha Raissnia, and Billy Martin), and conducts his own international "Orchestra Ambigua", engaging community members of all levels of experience using Butch Morris' style of improvisational conduction. For three years Daniel was a member of the house band at the renowned SoHo House NYC, alongside Max Gabriel, Dred Scott and Miles Wick.
 James Joslin (b.1987) (b.1987) is a composer and sound artist based in London, UK. His compositions are regularly performed around the world with notable performances at Klavier-Festival Ruhr, Singapore International Festival of Art, Foro Internacional de Música Nueva, and Gaudeamus Muziekweek, by musicians including Phyllis Chen, Daria Iossifova, the Hermes Experiment, and RPS Award shortlisted Olivia Jageurs.

With frequent collaborations with performers such as Margaret Leng Tan, a leading exponent of John Cage's music, James' compositions are often experimental in nature. In 2014's Deus ex Machina, electric currents were down the strings of a piano to create synthesised notes sympathetic to the vibrations, and 2016's Cut-Ups presented the performer with an assembled collage score, blurring the line between score as instructional material and an artwork in its own right.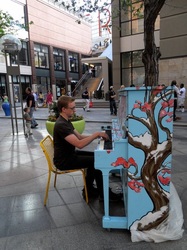 Celebrated for his "dramatic" and "assertive" playing  (New York Times), pianist and multimedia artist Tristan McKay's performances explore an uncharted musical terrain. Mr. McKay engages with a diverse repertoire that includes seminal works by composers such as Morton Feldman, Charles Ives, George Crumb, and Michael Finnissy, as well as new works by composers and artists based around the world, such as Anne Goldberg, David Bird, and Michaela Davies. Recent performances include a concert of new music by Ramin Arjomand, performances with the TAK Ensemble, the premiere of a newly commissioned graphic score by Leah Asher on the BLUEPRINTS Piano Series, and an evening of music for six-sided keyboard with Mark Mothersbaugh.
Tristan McKay is a Ph.D. candidate in Piano Performance at New York University where he studies with Dr. Marilyn Nonken. His research is centered on the spatial organization of experimental musical notations, and the semiotic engagements they engender for performers. Mr. McKay has recently given presentations on his research at New York University, the University of Colorado Boulder, and Denver School of the Arts. Mr. McKay has previously received degrees are from New York University (B.M. with a minor in Anthropology) and Manhattan School of Music (M.M. Contemporary Performance).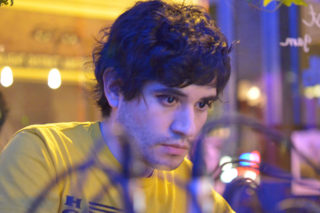 Felipe Ignacio Noriega is a composer, programmer and live-coding artist born in Mexico City. He collaborates in various settings where a common subject is the incorporation of coding as a performative and aesthetic principle. Ignacio graduated Cum Laude from the Masters in composition at the Conservatorium van Amsterdam in 2013. He has won various composition competitions and grants in the Netherlands including the Young Artist Fund Amsterdam 2015 and the ADE SoundLab 2016.
Felipe Ignacio Noriega and Anne Veinberg are Off<>zz, an ongoing project which explores the possibilities between live coding and acoustic instrumental performance within the classical music sphere. Off<>zz has performed around the world at both music festivals and coding conferences. One of their tracks will soon be released on the ODD7 label featuring current artists who are musically representing the Live Coding phenomenon.
Over the years, they have developed an understanding of each other's artistic personality but have always kept the role of coder and pianist divided. With their new and most ambitious project: the CodeKlavier, these roles will merge into one.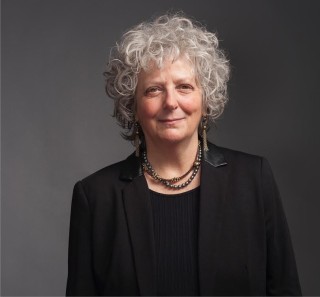 Not the 'new' for novelty's sake, but an open mind and extreme curiosity for what's happening around her, plus a need to evolve a personal aesthetic are the motivations behind Christina Viola Oorebeek's work. A trip to Las Vegas to record one-arm bandits in the mega-casino's for a music-theatrical piece; developing new instruments – 'the soundwheel', de plexiphone, the midi-toy piano; writing the story and libretto for her chamber opera, "The Pitchshifter" and "The Zapdream"; making music for kite, percussion and live electronics, belong to the work of someone from the 1960's, who never lost the love of experimentation.
An American-Dutch composer who left the U.S.A. in '69, she sang for two years in the 60's band, 'Dan Hicks and his Hot Licks' and tried her hand as a singer-songwriter. Having alighted in Amsterdam in '72, and after years as an improvising dance musician and 'rhythm for dance' teacher, she couldn't resist the need to start composing autonomous music and embarked on a career in composition and studied with Klaas de Vries in Rotterdam. In 1999, she graduated with the Composition Prize and has been continually active to this day. "Chromotoy I", "Chromotoy III", and now "Edges II" are among the works with Toy Piano composed as the featured instrument, perfomred in the Rainy Days Festival, Luxemburg (2012), the Netherlands and the 2013 Uncaged Festival.
Pianist Alex Peh is a collaborative artist, firmly rooted in the bucolic Hudson Valley where his two great passions, the rolling Shawangunk hills and his thriving studio of pianists at SUNY New Paltz sustains his creative work. He balances a wide range of musical projects; from commissioning new works to speaking with middle school children about Beethoven. Upcoming engagements for 2017-2018 include performances of Beethoven's 5th piano concerto at the Rhinebeck High School with the Northern Dutchess Symphony Orchestra as part of an outreach effort that reached over 100 middle school and high school students. Alex will begin a new collaboration with composer-percussionist Susie Ibarra and flutist Claire Chase that will feature the world premiere of Talking Gong at SUNY New Paltz as part of the Davenport Residency for New American Music. They will perform the New York City premiere at BRIC as part of the 2018 Look and Listen Festival.
Previous projects include the world premiere of Phyllis Chen's solo piano piece Columba, as part of the 2015 SUNY New Paltz Davenport Residency for New American Music. The project was supported by Harvard University's FROMM foundation and featured at the Banff Centre for the Arts. He has performed at the DiMenna Center, NYC; Dacor house, Washington DC; the Troy Music Hall in Troy, New York; and Vassar College's Skinner Hall, Carnegie Weill Recital Hall, NYC; and Kennedy Center Millennium Stage, Washington DC. His solo performances have been recorded and broadcast live on Chicago public radio WFMT 98.7 and Washington DC, WETA 90.9.
Alex is an assistant professor of music at SUNY New Paltz and part of the artist faculty of Anatolia Summer Music Festival in Thessaloniki Greece. He earned his BM and MM degrees from Northwestern University and his DMA from Indiana University. He has worked closely with Arnaldo Cohen, Dr. Sylvia Wang, Evelyne Brancart and Menahem Pressler and studied fortepiano with Wolfgang Brunner at the Universitat Mozarteum in Salzburg, Austria. He was selected to participate in the Aspen, Banff and Tanglewood Music festivals where he worked with Ignat Solzhenitsyn, Peter Serkin, Pamela Frank, and Emanuel Ax on a diverse array of projects including a performance of Stravinsky's Les Noces with conductor Charles Dutoit and the Tanglewood Festival Choir.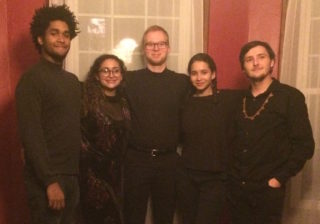 SUNY New Paltz Experimental Music Ensemble is an open group dedicated to creating, performing and appreciating contemporary/experimental works of music. Through this ensemble, we foster a creative space for individuals to express themselves sonically as well as encourage artistic collaboration within the greater fine and performing arts community.
Steven Roberts founded the ensemble in 2017, comprising music
students Elena Rothenberg, Rose Stoller, Samuel Johnson, Matthew Parker and Serena Markinson (not pictured).
Margaret Leng Tan is one of the most highly regarded performers in American experimental music. Tan, whose work embraces theater, choreography, performance, has been called the "diva of avant-garde pianism" by The New Yorker. She is renowned as a pre-eminent John Cage interpreter (her mentor of eleven years) and for her performances of American and Asian music that transcend the piano's conventional boundaries. Hailed as "the queen of the toy piano" by The New York Times, Tan is the world's first toy piano virtuoso whose groundbreaking 1997 recording, The Art of the Toy Piano (Point Music/Universal), transformed a humble toy into a real instrument. Recent premieres include Curios, a solo music-theater piece for toy instruments by Phyllis Chen, and Metamorphoses, Book 1 for amplified piano by George Crumb, both written for Ms. Tan. www.margaretlengtan.com
Adam Tendler  has been called "a virtuoso pianist" by The Village Voice, "an exuberantly expressive pianist" who "vividly displayed his enthusiasm for every phrase" by The Los Angeles Times, a "quietly charismatic…intrepid…outstanding…maverick pianist" by The New Yorker, a "modern-music evangelist" by Time Out New York, and a pianist who "has managed to get behind and underneath the notes, living inside the music and making poetic sense of it all," by The Baltimore Sun, which continued, "if they gave medals for musical bravery, dexterity and perseverance, Adam Tendler would earn them all." New York Times critic Anthony Tommasini reported that Tendler played an outdoor performance of John Cage's music "captivatingly," and that "the wondrously subdued sounds silenced many, who listened closely even as street bustle and chirping birds blended in." London critic Frances Wilson described Tendler's memorized performance of Morton Feldman's Palais de Mari as "a concentrated listening experience…meditative, intense and beautifully poised." And the new music blog, "i care if you listen," described Tendler's recent performance at The Kitchen in New York City as "virtuosic… eerie… agonizing… distressing." The music publisher C.F. Peters, recently asked Tendler to perform and speak about a number of composers, including John Cage, for their digital music app, Tido, making Tendler the first artist to record Cage's music for a digital score-reading platform. Tendler's own memoir, 88×50, about his grassroots fifty-state recital tour, was a 2014 Kirkus Indie Book of the Month and Lambda Literary Award Nominee. 2015 saw the release of his premiere recording of Edward T. Cone's 21 Little Preludes for piano, and will record an album of works by Robert Palmer in 2017. Tendler lives in New York City and serves on the faculty of Third Street Music School Settlement, the country's first community music school.
The music of composer and multi-instrumentalist Dan VanHassel (b. 1981) has been described as "energizing" (Wall Street Journal), "a refreshing direction" (I Care If You Listen.com), and "an imaginative and rewarding soundscape" (San Francisco Classical Voice). His works create a uniquely evocative sound world drawing from a background in rock, Indonesian gamelan, free improvisation, and classical music. Recent performances include the Talea Ensemble at the MATA Festival, the International Computer Music Conference, Shanghai Conservatory Electronic Music Week, Bang on a Can Summer Festival, UC Davis Music and Words Festival, and the Wellesley Composers Conference. He has received grants from Chamber Music America, the Barlow Endowment, and New Music USA. Also active as a concert producer and performer on piano and electric guitar, Dan was a founding member of contemporary chamber ensemble Wild Rumpus and artistic director through 2016. Currently residing in Boston, Dan has degrees from the University of California Berkeley, New England Conservatory, and Carnegie Mellon University.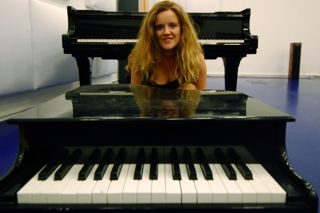 Pianist Anne Veinberg is an active soloist, improvisor and chamber and larger ensemble player. She performs throughout Europe and Australia and has appeared at festivals such as Sonorities Festival (IR), La Escucha Errante (SP), Live.code.festival (DE), Atlas Festival (NL), Interactive Keyboard Symposium (UK), Bimhuis 'Monday Match' (NL), Ustvolskaya Festival (NL), Grachtenfestival (NL), Trance Festival (NL), Uitmarkt (NL), Klangspuren (AU), Henley Festival (UK) and Composers Festival (NL) amongst others.
Anne was keyboard finalist in the ABC Young Performers Award 2008, winner of the Grachten Festival Conservatory Concours 2009, semi-finalist in the 2011 Gaudeamus Interpreters Prize, finalist in the Linkprijs and prizewinner at the Stockhausen Courses Festival in 2013. She has been supported by the Australian Council for the Arts, the J Vonks Fond, Australian Music Foundation, the Donovan Johnson Scholarship, FW Homeward Memorial Scholarship.
With her keen interest in contemporary music, Anne regularly collaborates with composers and has premiered works by Felipe Ignacio Noriega (MEX), Andys Skordis (GR), Michael Young (UK), Anthony Leigh Dunstan (AUS), Charlie Sdraulig (AUS), Marcel Weirckx (NL/CAN), Jos Zwaanenburg (NL) and many others. She is particularly interested in exploring works for piano and live electronics/live coding and the more theatrical contemporary piano repertoire. As a collaborative pianist, Anne has casually worked with many ensembles including Lunapark, Atlas Ensemble, Nieuw Ensemble and is a member of Duo Kolthof/Veinberg, Duo Neshome, Duo H|A, Ensemble SCALA (microtonal music) and Off<>zz (livecode/piano).
Anne studies on a Yamaha grand piano, kindly on loan from the Dutch Musical Instruments Foundation. The piano is part of the collection 'Willem G. Vogelaar'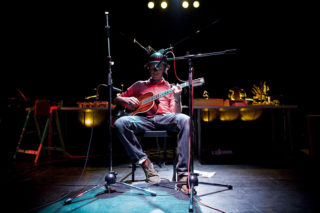 Nick Yulman works with sound and interactive media in a variety of ways including installation art, oral history, and mechanical music. His Bricolo Mechanical Music System offers an introduction to musical robotics for musicians, composers, and artist interested in bringing digital music making into the physical world.He has presented his work at venues including Paris' Palais de Tokyo, MoMa PS1, The Museum of the Moving Image, Smack Mellon, Warsaw's Centre for Contemporary Art, Flux Factory, UnionDocs, and the New York Hall of Science. Yulman is Senior Curator for Design and Tech at Kickstarter and previously worked with the national oral history project StoryCorps. He's a graduate of NYU's Interactive Telecommunications Program (ITP) and periodically teaches there.