Phyllis Chen (UnCaged founder) is a pianist/toy pianist/composer that performs original multi-media compositions and works by contemporary composers. The Oregonian states  "her captivating performance was animated by unbridled inventiveness, the kind of joyous creativity that playing with toys is meant to inspire." Playing an instrument that has no set boundaries or genres, Phyllis has been invited to perform at a wide range of music venues and festivals.   In 2007, Phyllis founded the UnCaged Toy Piano, an annual call-for-scores to expand the repertoire for the toy piano.  This past year, Phyllis was one of the inaugural composer/artists for the 2011 ICElab Series, a new model for commissioning new works. Her toy piano chamber works were performed along with International Contemporary Ensemble at the Baryshnikov Center, Museum of Contemporary Photography in Chicago and the Mostly Mozart Festival Lincoln Center. Upcoming projects include a micro-media opera commissioned by Opera Cabal in collaboration with her partner/video artist Rob Dietz.  Her most recent sophomore mini-album, Mesmers, was praised by Time Out Chicago as "a music world that simultaneously haunts and inspires. "  The album features all original works for toy piano, music boxes and bowls. Phyllis is currently recording her third solo toy piano album featuring works written for her.
Margaret Leng Tan,  has established herself as a major force in the American avant-garde. Ms. Tan, whose work embraces theater, choreography, performance, has been called "the diva of avant-garde pianism" by The New Yorker. She is renowned as one of the pre-eminent John Cage interpreters and for her performances of American and Asian music that transcend the piano's conventional boundaries.
Margaret Leng Tan has been hailed as "the queen of the toy piano" (The New York Times) and "the toy piano's Rubenstein" (The Independent, UK). After discovering Cage's Suite for Toy Piano in 1993, Ms. Tan became fascinated with the artistic potential of the toy piano and more recently, with other toy instruments as well. In her groundbreaking 1997 CD, The Art of the Toy Piano (Philips/Universal), she elevated a humble toy to the status of a real instrument. Critics acknowledge her as the world's first toy piano virtuoso who has inspired composers to create a unique repertoire for a new instrument. Ms. Tan's diminutive music-theater of nostalgia and humor has delighted audiences at festivals around the world. Her latest toy album, SHE HERSELF ALONE: The Art of the Toy Piano 2, has been released as a Mode Records CD and DVD (mode 221) to critical acclaim. It was awarded the Diapason d'Or from the French Diapason magazine in March 2011.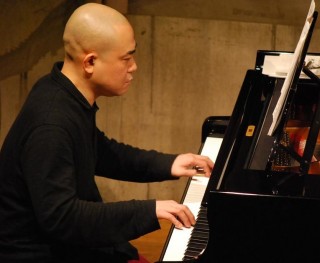 Pianist/toy pianist/improviser/composer Takuji Kawai is from Tokyo, Japan. As a pianist, he plays contemporary music written by composers such as Morton Feldman, john Cage, Gianciinto Scelsi, yuji Takahashi, Mamoru Fujieda, Yori=aki Matsudaira and many more. As an extensive improviser in japan, Takuji performs as a solo pianist, as well as in collaboration with many musicians such as Tetuzi Akiyama, Hgues Vincent, Gianni Gebbia. As a composer, Takuji's works range from chamber orchestra pieces to solo (toy) piano pieces and songs. As a toy pianist, Takuji performs gigs focused on miniature instruments and has written many small pieces for toy piano as well as graphic/experimental pieces for toy instruments. He works extensively with dancers and choreographers from ballet and butoh. Takuj's most recent CD is a collaborative project with Aikyama entitled Transition. Other releases include Piano Plateaux, a 50-minute solo improvisation, Jewelry featuring his solo compositions and Blade with electronics. Takuji received a master degree in musicology and philosophy at Tokyo Noational University of Fine Arts and Music.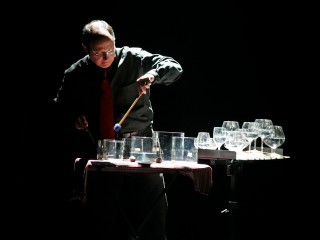 Composer/improviser/sound artist Miguel Frasconi is a composer and performer who uses electronics, laptop, toy pianos, and an instrumentarium of glass objects to create music from a uniquely imagined tradition. His glass instruments are struck, blown, stroked, smashed and otherwise coaxed into vibration. His array of activities have included collaborations with the Balinese composer Dewa Berata on music for a large-scale shadowplay, with operatic tenor John Duykers on unique music/theater events, and with the Tibetan songwriter Techung, with whom he has toured throughout India. Miguel has worked closely with composers John Cage, Jon Hassell, James Tenney, Morton Subotnick, and has collaborated with many choreographers, including modern dance pioneer Anna Halprin. He was a founding member of The Glass Orchestra, the internationally renowned ensemble featuring all glass instruments, and is presently a member of the new music group Ne(x)works. Miguel's music has been released on New Albion Records and Porter Records. A recording of his string quartets featuring JACK Quartet will be released next year on the Tzadik label. Miguel is currently a visiting professor at the Bard College Electronic Music Studios and director of the Bard Laptop Orchestra. More info at frasconimusic.com
photo credit: Richard Termine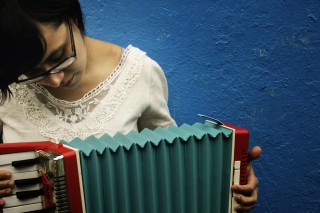 Composer and multi-instrumentalist Angélica Negrón was born in San Juan, Puerto Rico in 1981 and is currently based in Brooklyn, New York. Interested in creating intricate yet simple narratives that evoke intangible moments in time, she writes music for accordions, voices, toys and electronics as well as chamber ensembles and orchestras.  Angélica received an early education in piano and violin at the Conservatory of Music of Puerto Rico where she later studied composition under the guidance of composer Alfonso Fuentes. Her music has been performed by janus trio, Cadillac Moon Ensemble, Astoria Symphony Orchestra, TRANSIT Ensemble, Iktus Percussion Quartet, NYU Symphony Orchestra, the Puerto Rico Symphony Orchestra, Cantori NY, among others. She holds a master's degree in music composition from New York University where she studied with Pedro da Silva and is currently pursuing a doctorate in music composition at The Graduate Center (CUNY), where she studies with Tania León. Angélica has contributed as a writer to the International Alliance of Women in Music Journal and the British magazine The Wire, and recently presented her MATA commissioned piece FONO, for chorus and live electronics, at MATA Festival 2011. www.angelicanegron.com
As a percussionist and composer, Matt Evans blends the worlds of contemporary classical, indie, and experimental music. His performances throughout the United States have included such venues as the Kennedy Center in Washington, D.C. and the 2008 PASIC conference in Austin, Texas.  He has performed under the baton of Brad Lubman and Alan Pierson, and worked closely with composers such as David Lang and John Luther Adams. Recent festival performances have included concerts as part of Bring to Light NYC, Make Music New York, Tune-In Music Festival, and the Bang on a Can Summer Festival.
As a toy instrumentalist, Matt's compositions and performances highlight the endearing nature of all sorts of "juvenile" sounds, from computer keyboards and plastic bags to melodicas and desk bells.  His ad hoc toy instrument ensemble, Mev and the Extra Sleeves, was named "the highlight of the event" by the Democrat and Chronicle for the groups performance of Matt's original work this is what a blizzard sounds like in my brain at Rochester's 2011 Art Awake Festival.
Matt Evans earned his Bachelor's degree in percussion performance from The Ohio State University and is currently finishing his Master's degree at the Eastman School of Music.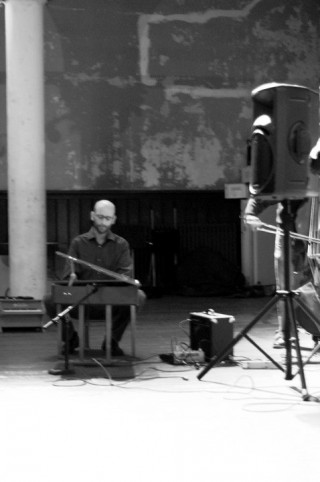 David Smooke composer/performer (b. 1969) currently resides in Baltimore, Maryland, where he teaches music theory, rock music history, and composition, and is the Chair of the Music Theory Department at the Peabody Conservatory of Johns Hopkins University. The Washington Post claims that "Smooke has some of the most uninhibited brain cells around" and describes his music as "superb […] a kaleidoscopic sonic universe where anything could happen"; the Baltimore Sun adds that it is "a highly creative, absorbing experience." His honors include those from the Maryland State Arts Council, BMI, the National Association of Composers USA, the MacDowell Colony, the Virginia Center for the Creative Arts, and the Ragdale Foundation. He received an M.M. degree from the Peabody Conservatory, a B.A. magna cum laude from the University of Pennsylvania, and a Ph.D. from the University of Chicago, where he received the Century Fellowship, the highest fellowship offered by the Humanities Division. In addition to his composition activities, David performs improvisations on toy piano with the support of Schoenhut toy pianos, co-curates League of the Unsound Sound (LotUS) and writes a weekly column for NewMusicBox, the online magazine of the American Music Center.
Ranjit Bhatnagar,  discovered sound art around age 14, listening to weird late night programs on KPFA. He now works with interactive and sound installations, with scanner photography, and with internet-based collaborative art. Recent works have been exhibited at the Lawrence Hall of Science in Berkeley, the Parc d'aventures scientifiques in Belgium, Flux Factory in Queens, in the Artbots series at Eyebeam Atelier and the Pratt Institute in New York, and the Mermaid Show at the Williamsburg Art and Historical Center in Brooklyn. He recently taught "Mister Resistor" at Parsons School of Design, a studio course and rock band with homemade instruments. Originally from the San Francisco Bay Area, Ranjit received a BA from U.C. Berkeley and an MS from the University of Pennsylvania, and was certified carnie trash by the Coney Island Sideshow School in 2002. He lives in Brooklyn next to a nice big park.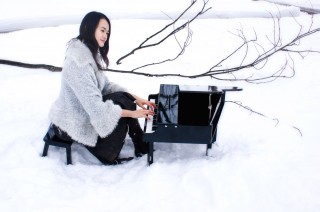 Born in Malaysia, Chinese pianist Yen-Lin Goh is an avid performer of contemporary music. She has premiered numerous solo and chamber works in concerts and festivals across the United States and in Europe. Composers she
has collaborated with included Chen Yi, Mayke Nas, and Tom Lopez. Yen-Lin's special interest in improvisation has led her to form contemporary improvisation ensembles and to work extensively with different instrumentalists, vocalists, dancers, actors and theater directors on improvisation projects and concerts. She started including toy piano and toy instruments in many of her performances after discovering their unlimited potential through Ge Ganru's melodrama Wrong, Wrong, Wrong! Her most recent project was a collaboration with renowned Chinese artist Huang Shenchen, demonstrating the liveliness and spontaneity of calligraphy through an improvisation with Chinese toy instruments. Combining her diverse interests in ethnic music, folk culture, andlanguages, especially those of her Chinese background, Yen-Lin wroteher first solo piano piece, Fantasia on a Taiwanese Vendor's Folk Song and gained recognition as a composer after its premiere in 2007.
A devoted scholar and educator, Yen-Lin has presented her papers in music and film conferences, including the international conference Music and Moving Image. Most recently, she gave a lecture recital on Ge Gan-ru's two melodramas at the Livewire Festival and Symposium. Included among her many academic and artistic honors is the Tunisian/American Embassy Piano Fellowship. This award brought her to Tunisia in Summer 2010, assisting pianist Thomas Rosenkranz in teaching and performing at the Higher Institute of Music in Sousse  Yen-Lin is currently a fourth year doctoral student in contemporary music at Bowling Green State University, studying piano with Dr. Robert Satterlee and composition with Dr. Marilyn Shrude. She also holds
degrees in both Piano Performance and Communication Arts/Radio-TV-Film
from the University of Wisconsin-Madison.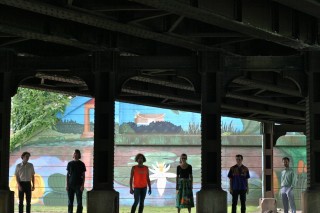 Cuddle Magic is a band and songwriting collective from Brooklyn and Philadelphia that performs lush, whimsical songs with wide-ranging instrumentation including strings, percussion, vibraphone, trumpet, clarinet, keyboards, guitars, and many voices.  Cuddle Magic balances folk timbres with surprising atonal harmonies, pop song-craft with Steve Reich-inspired rhythmic complexity, and direct emotional lyrics with dense wordplay.
Conservatory-trained, yet folk musicians by temperament, the members of Cuddle Magic have collaborated with a diverse range of artists, including Beyonce, the David Wax Museum, Larkin Grimm, Mike & Ruthy (formerly of the Mammals), new music toy-piano virtuoso Phyllis Chen, the progressive string band Joy Kills Sorrow, and legendary "third-stream" pianist Ran Blake.